Chris Cassatt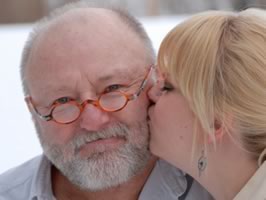 Chris Cassatt and his wife Lauren live in Basalt, Colorado. Lauren is the librarian at Aspen High School. They have two grown children. Alex is a sound engineer, DJ and digital musician and Hayley is an up and coming artist. They both also contribute to the production of Shoe.
Chris began cartooning in 1972. His first attempt was a photo cartoon called Protonibus Lives. Over the years there have been many incarnations of his comic strips and panel cartoons. The most memorable were Sal A. Mander, Pizza Bones and Downe & Dirty.
Chris worked as Jeff MacNelly's "assistant" for almost a decade before Jeff's death in June of 2000.
When not helping Jeff crank out Shoe, art for humor writer Dave Barry's column or Jeff's three-time Pulitzer Prize winning editorial cartoons, they loosely collaborated on a mostly secret cartoon published only in Chris's local newspaper. This cartoon was a release for the sillier stuff that didn't fit into the other cartoon vehicles. SoShoe.Me is a peek at those years of their fooling around just for the hell of it.
Today Chris produces the internationally syndicated comic strip Shoe and has been doing so since 1993.