Susie MacNelly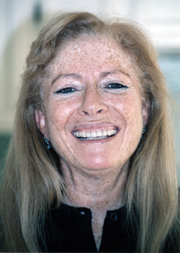 "On my planet, EVERYBODY has long curly red hair and skinny legs. Even the guys. That's what first attracted me to Jeff. He didn't have either."
Susie met Jeff MacNelly, the Pulitzer Prize winning political cartoonist, in 1989 on a blind date at a bar in Washington, DC. Jeff was poised at the back door ready to flee if he didn't like what he saw. He stayed. To his amazement Jeff immediately realized she was the wiseass Roz he'd been drawing in Shoe for 12 years. She was the bird of his dreams! It was love at first sight. They were soon married and took up residence on a Blue Ridge mountaintop.
As Jeff expanded his talents as a painter and sculptor, he saw the need to put together a crew of wiseacres to help with Shoe production. Susie was quickly appointed Field Marshal. Her first marshaling job was to round up the digital cartoon nerdmeister-of-the-west, Chris Cassatt, followed by Gary Brookins and his magic brush.
Little did Jeff know, he was assembling what would be the driving force behind the continuing wit and wisdom of Shoe after his premature death in 2000 from lymphoma.
Susie continues to live in the Blue Ridge Mountains and in Key West. She takes care of her expanding brood of animals and repairs Jeff's ancient, beloved automotive relics. Everyday she, Chris and Gary breathe life into Shoe, Roz, Cosmo and the cast of characters that make Shoe the award winning comic strip it is.