Shoe Fetish - By Chris Cassatt, Susie MacNelly & Gary Brookins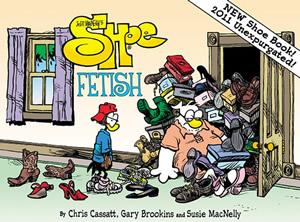 Shoe's first eBook! Our first book since the 2004 release of 27 Years of Shoe. For those of you counting that makes Shoe 35... or 34 in the case of 2011. I was wrong... soshoe.me
This book is available for download on your iPad with iBooks 2 or on your computer with iTunes. To read this book, you must be using an iPad with iBooks 2.


27 Years of Shoe: World Ends at Ten, Details at Eleven - By Jeff MacNelly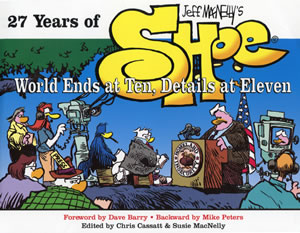 This is the first Shoe collection of Jeff MacNelly since 1994! Edited by Chris Cassatt and Susie MacNelly, who along with Gary Brookins keep Shoe as lively, vital, and vibrant as Jeff did. 27 Years of Shoe contains hundreds of cartoons from 1977 to 2004. Plenty of MacNelly extras including actual notes from Jeff's teachers, as well as photos and warm remembrances of the creative genius.
Details:
| | |
| --- | --- |
| | • Published on September 1st, 2004 |
| | • Limited Quantity |
| | • Paperback |
| | • 216 pages |

Unsigned New Copy
from the Official
MacNelly Store



So That's Why They Call it Boot Camp - By Jeff MacNelly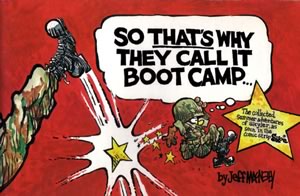 The collected Summer adventures of Skyler, as seen in the comic strip Shoe. Dedicated to all who sacrifice in service to their country especially to those who served in Vietnam, those who are still missing, my frieds in the 4th Allied P.O.W. Wing, and the devoted families of all of the above.
Details:
| | |
| --- | --- |
| | • Published by MSProductions |
| | • Limited Quantity |
| | • e-book |
| | • 67 pages |
| | • Free |

E-Book
from the Official
MacNelly Store